There is no surface that gets more traffic than a floor, and because of that, floors are often covered in dirt, grime, and everything else. Fortunately, there are a lot of solutions to that problem, with various cleaners around that cater to floors of all sorts. The purpose of this article is to introduce you to some of the best floor cleaners available.
---
If you're in a hurry, here are our top 3 quick picks for the Best Floor Cleaners of 2021
---
Criteria for

Choosing the Best Floor Cleaners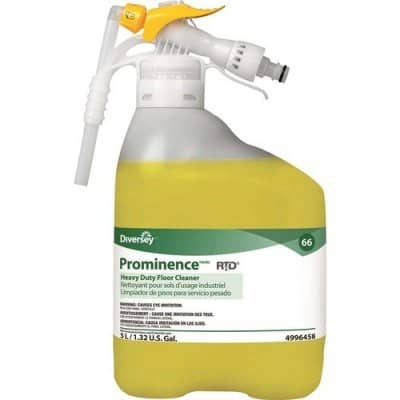 There are a lot of floor cleaners out there, and they are not all created equal. In fact, despite all of them cleaning floors, some are stronger than others, while some only work on certain types of floors. In order to ensure that this list contains only the best of the best when it comes to floor cleaners, the following things were considered:
Strength: Not every cleaner is meant to do a deep clean, with some serving as daily cleaners and providing a basic clean. However, even for cleaners that aim to lightly clean floors quickly, there is a certain requirement for strength. Therefore, the strength and quality of the clean were considered.
Safety: While safety for the user is always a concern, the main thought behind safety is whether it can be used without damaging a floor. The cleaners on this list each work on certain surfaces, and it is important that using them on those surfaces does not cause any damage or dulling.
Amount: The amount of cleaning agent for the price is important, but it also varies. Some are meant to clean deeper, while others are used for spot cleaning or specific floors. So, the amount of cleaner for the price is different. However, all the cleaners on this list give enough to be worth the price.
Another thing that was considered was the scent. While scent might not be important to everyone, making sure that it is not overpowering is quite important. Additionally, how easy a cleaner is to use and many other factors influenced the choices on this list.
---
The 8 of Best Floor Cleaners of 2021
There are plenty of effective choices if you want a powerful cleaner, and many of them are reasonably priced. However, with so many different surfaces and methods of cleaning out there, you might find it difficult to find the perfect choice for you. Hopefully, the decision will be easier after taking a look at the options below.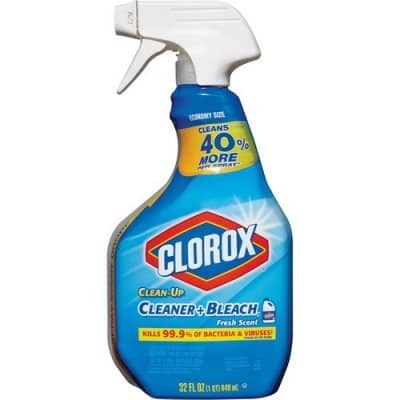 The first-floor cleaner on this list is actually an all-purpose cleaner that is capable of cleaning a variety of surfaces. Though, it is most effective on hard, nonporous surfaces, such as counters, floors, and tiles. As for the bleach, it helps you clean, disinfect, and deodorize these surfaces quickly.
The cleaner is highly effective, making quick work of grease and dirt and eliminating more than 99% of germs. Plus, it utilizes Smart Tube technology to spray every drop, preventing you from wasting anything. The trigger spray is also easy to use, so you will have no problem putting this versatile spray to work, even in hard-to-reach areas.
PROS
It works on a variety of surfaces
It deals with odor and eliminates 99% of germs
The bleach-powered cleaner makes quick work of grease and dirt
The Smart Tube technology avoids waste
The trigger is easy to use and helps you reach difficult areas
CONS
Some people have had trouble with the sprayer leaking
It is not ideal for cleaning large areas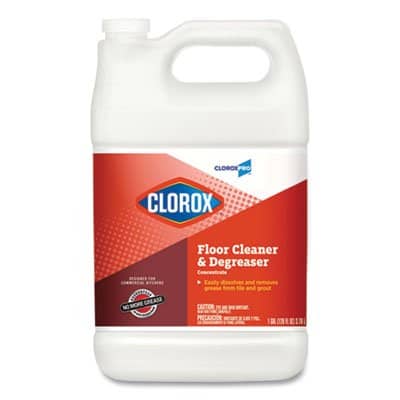 While the previous Clorox product might not be great for large areas, that is not the case for this floor cleaner concentrate. It comes in a gallon container that can create 32 gallons of potent cleaning product that works with a variety of floors, making it a great choice for those who have a lot of ground to cover.
This cleaner also has a pleasant but light scent that allows you to use it around customers or employees. Moreover, since it does not require rinsing after, you can cut down on the work and get the job done quickly. Plus, with the degreasing aspect of this cleaner, you will have no problems tackling the toughest, most slippery messes.
PROS
It can create 32 gallons of cleaning product
It does not require rinsing and does not leave anything behind
The light scent will not bother employees or customers
The powerful cleaner means you can use it in industrial settings or kitchens
CONS
It does not work on all floors
Concentrate requires an additional step before use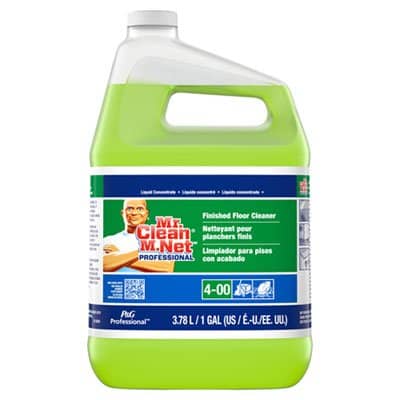 Another great floor cleaner comes from Mr. Clean. This cleaner is great for ground-in dirt, and it goes the extra mile to preserve the shine of finished floors. While it does not work on all floors, it does work great for a number of surfaces, and since it can penetrate and dissolve dirt and grease, it is quite versatile.
The recommended dilution for this floor cleaner is 1:128 for manual use and 1:512 for automatic machines, which means it is one part of the cleaner to 128 parts water for manual use. With the dilution requirements, you will get a lot of use out of the one gallon of product, and since it requires no rinsing, you should save some time as well.
PROS
It works great for ground-in dirt
It preserves the shine of finished floors
The recommended dilution gives you a lot of cleaning product
It does not require rinsing after use
It works with automatic floor scrubbing machines
CONS
It does not work on all surfaces
Some people have complained about the cap leaking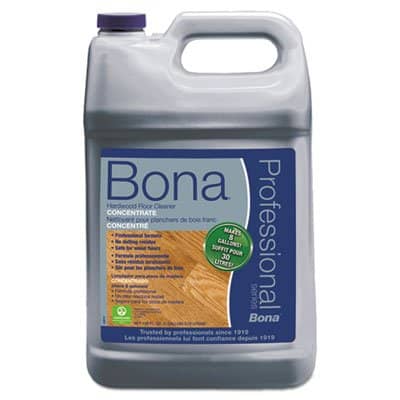 If you want a cleaner for hardwood floors that packs a punch, then Bona's floor cleaner should be your first choice. This cleaner is their professional-strength formula, and it can provide your hardwood floors with a thorough clean. If you have a hardwood floor with a clear, unwaxed finish, this cleaner will do the job.
The cleaner does not leave any residue, nor will it dull the floor's finish. It is pH neutral as well as non-flammable and safe. Add to that the fact that it is non-toxic, and you will not have to worry about where you use it. Additionally, with this one-gallon bottle of cleaner, you will get eight gallons of cleaning product.
PROS
It works on hardwood floors with a clear, unwaxed finish
The professional strength formula cuts through dirt and grime
It will not dull the finish or leave a residue
It is non-flammable and non-toxic
CONS
It does not make as much cleaning product as some concentrates
It only works on a very specific type of floor
This floor cleaner is another great product from Bona that is meant for a select few types of flooring. It is a waterborne cleaner that works on stone, tile, and laminate floors. This cleaner is also a degreaser, and it works wonders when used to spot clean food spills and other messes and stains. It even does so without oily or dulling residue.
You will not have to worry about leaving behind wet spots with this cleaner, either. It dries quickly and leaves behind a pleasant scent. Moreover, it is safe, being pH neutral and non-flammable. Unlike many of the floor cleaners on the list, this cleaner is meant to be put in a spray bottle and sprayed directly on the troublesome spots.
PROS
It goes in a convenient spray bottle for quick application
It works very well as a spot cleaner for food spills and stains
There is no oily or diluting residue left behind
It has a fresh, clean fragrance
It does not need to be diluted
CONS
It is only meant for a select number of floors
It is not as effective as some other cleaners for large areas
You can trust 3M to deliver great cleaning products, and their 3-in-1 floor cleaner is no exception. It is a low-foaming cleaner that requires no rinsing after use and can be used manually or with automatic scrubbers. While it can be used for scrubbing before recoating, it is also formulated before burnishing and daily cleaning.
This 3M cleaner is an effective cleaner that can deal with dirt and grime of all sorts, and it does so without damaging a floor's finish. The fresh scent is also subtle enough to not be overpowering after a cleaning. However, one of the ways that this cleaner really stands out is the automatic dispensing system that makes dilution accurate and easy.
PROS
It is low-foaming and does not require rinsing
It works for daily cleaning and deep cleans before recoating
It cleans without damaging a floor's finish
The automatic dispensing makes diluting easy
A single bottle goes a long way
CONS
It has a high price tag compared to many other floor cleaners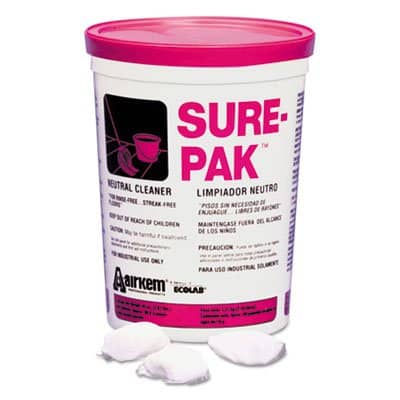 AbilityOne, SKILCRAFT, Ecolab Sure Pak Floor Cleaner
If you like the idea of not having to measure your floor cleaner to get the right dilution, then you should consider this option. The AbilityOne floor cleaner featured here comes in water-soluble packets that make preparation clean and easy. Moreover, you can change the water used to adjust for light or heavy cleaning.
This AbilityOne floor cleaner is pH neutral, and it is effective and safe for all resilient floor surfaces. The formula is also rinse-free, which will save you time and effort. It does not just operate as a cleaner and degreaser, though. It also prevents streaking and leaves a sparkling shine. It will be difficult to find a more convenient option.
PROS
The water-soluble packets are easy to use
It works great as a daily floor cleaner
It can be used on all resilient floor surfaces
The formula ensures that there are no streaks
CONS
The packets have to dissolve, which can take a moment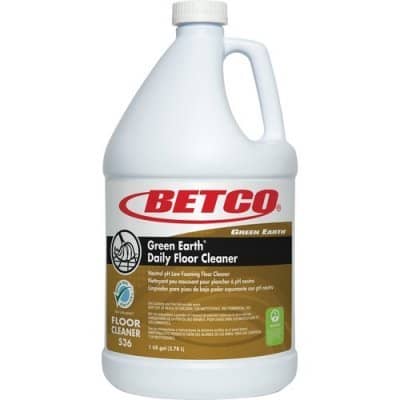 Green Earth made this environmentally-friendly floor cleaner without missing a beat when it comes to performance, providing a cleaner that is highly effective at lifting dirt from finished floors. It is also focused on maintaining a gloss without damaging the finish at all. It even eliminates odor.
This potent cleaning agent can be used manually or with an automatic scrubber, and a little can go a long way. In fact, the recommended dilution is one part cleaner to 256 parts water, meaning the one gallon of the cleaning agent can help you clean for quite some time. Just make sure you dilute it with cold water.
PROS
It is an environmentally friendly option
It is highly effective at uplifting stubborn soil
It will maintain a gloss on finished floors
The recommended dilution allows you to get a lot out of a single bottle
CONS
There are more powerful cleaning agents out there
---
How to Shop for a Best Floor Cleaner
The cleaners on this list cover a variety of methods, surfaces, and strengths. While that might make it easier to shop if you know what you are looking for, it can also be a bit overwhelming. Therefore, here are some things that you should consider when shopping for a floor cleaner:
Surfaces: What surfaces are you looking to clean? It is always a safe bet to go with something versatile that can cover multiple surfaces, but it might not be the most efficient. Therefore, know what surfaces you need to clean and shop accordingly.
Strength: Are you looking for a deep clean, or do you want something for daily use? Determining how often you need to clean and what type of mess will be waiting for you can make the decision easier. Plus, some focus on things like degreasing, which might be vital for some environments.
Method: Will you be using an automatic machine or doing things manually? Some of the options out there are only meant for manual use, while others can be used for both.
There are plenty of things to consider when you are shopping. In fact, you should also consider who will be around the floors cleaned with the cleaning agent. If it is a high-traffic area with plenty of customers, make sure the scent is pleasant or that there is not one.
---
In Conclusion
There are plenty of things to consider when shopping for floor cleaner, but the ultimate goal is to properly clean a certain surface. As long as you can get a good clean, the rest is secondary. So, go into things knowing what type of floor you plan on cleaning, and everything else will fall into place.
---
Other Products You May Need